Global
PLATFORM
DEDICATED TO POSITIONING
Latin America
Call it destiny. One minute you're coasting along happily, Executive Producer of your nation's top public affairs and politics TV programme. And then, just like that, there is a meeting with the President's office, a project, and everything changes.
Rodolfo Milesi, a successful Argentine journalist, was catapulted into the nation's embassy in London as press attaché, and told to help rebuild bridges with the UK's most influential media. It was early 2002, shortly after Argentina's financial meltdown. And relations with the international media needed all the professional care and attention Argentina could muster. Truth be told, Rodolfo's destiny may actually have been mapped out long before the crisis in Buenos Aires.
Years beforehand, when he was just a 20-year-old on his gap year, Rodolfo's friends were headed for the United States, but he chose to study English in London. Later, in 2003, after two years successfully helping to rebuild the image of his nation's recovering economy, Rodolfo took another unusual step. During this time he'd learned much about British attitudes towards Argentina and Latin America in general, and the seed of an idea was germinating.
"I was inspired by a Latin America not known about in the UK," he says. "I realised the British media was not just interested in our negative or stereotypical news. I could see much more interest in our gastronomy, wine and landscapes. But the opportunities had to be placed on the table by somebody." He realized that the "somebody" could be himself.
Destiny, he suspects, will keep him in the UK for some time to come, "doing positive and tangible things for the reputation of my country and Latin America." But he plans to head home at some point. "Who knows?" he says with a smile. "Maybe, if destiny chooses, in 15 years I'll run for the presidency myself."
Political Division Director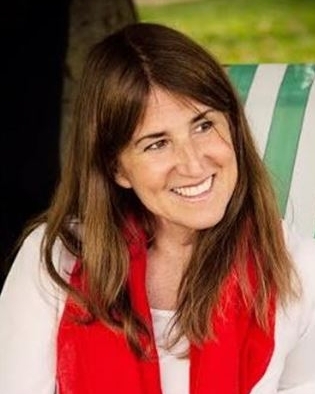 CEO Branding Latin America HOME
When Andres Pastrana became President of Colombia in 1998, one of his shrewdest moves was asking former NBC news producer to create an office to deal with the foreign press. It was her first government position but Adrianne Foglia mastered her job – not to mention the foreign press – with such agility that several other governments in the region have sought her advice on how to reshape their own images. An article about her work even appeared in the Columbia University Journalism Review shortly after she left the post.
Adrianne began as one of the youngest producers at NBC News, based in Miami and covering Central and South America and the Caribbean before moving to Colombia, where she lived for almost 20 years. She was international editor of DINERO magazine in Colombia, then Press Secretary to the President before coming to London to serve as Press Attaché at the Colombian Embassy. During her time there she dramatically improved the media coverage of Colombia in the British and Irish press.
Claudia is the CEO of Branding Latin America HOME. She discovered the global potential for the Latin America region at tourism, exports and global investment levels while living and working in trendsetting capitals of the world such as Buenos Aires, New York, London, and Santiago de Chile.
Claudia further developed her knowledge on business strategy and public relations while working for tourism boards, governments, and corporations at Branding Latin America, where she joined in 2009. She very much enjoys designing and executing innovative campaigns across the UK, Europe, Asia, Latin America, and the Middle East, including strategies, positioning, marketing and new product introductions. Claudia adds a fresh "zesty" twist to every campaign she is involved with. She is also a qualified lawyer.
Tim has dual UK and Argentine citizenship, having grown up in London and lived for many years in Argentina. He has an MSc in International Business and Finance from London South Bank University and an MA in Latin American Studies from the University of Essex. As part of his MA he also spent one year studying at the Universidad Católica of Córdoba, Argentina.
Prior to working for Branding Latin America, Tim performed a six month internship at Buenos Aires based firm Allonca + Esquivel Legal and Business Consultancy. During this time he advised and represented a number of international clients on investment opportunities in Argentina and the wider region, especially Brazil and Peru. This included North American and European Private Equity funds, especially seeking to invest in infrastructure, land and commodities.
Tim works in BLA's travel division, and specialises in tourist boards, hotels, airlines and tour operators. He is passionate about bridging business and institutional interests between the UK and Latin America, and works directly with the Argentina Tourist Board and Air Europa accounts.
Event planning & PR associate with broad experience in the Argentine and Uruguaian markets.
She started her event career working for NGOs in Buenos Aires and then moved her abilities to the corporate and luxury events.
Over the last years she has done several working experiences abroad to improve her skills. Highlighting being part of the production team of Art Marbella, the second biggest art fair in Spain and supporting the NOA team in Vienna, Austria.
Jazmin joined the Branding Latin America Group team in 2017 for the first European road show of the Buenos Aires Investment chamber, InvestBA along with BLA Home, the South American branch of the group.
Ella spent several years in Latin America exploring arts and culture through social projects. She taught children English through song in Brazil in a Rio de Janeiro favela, curated musical arts events in Buenos Aires, Argentina and conducted academic research with contemporary dance collective El Colegio del Cuerpo in Cartagena de Indias, Colombia. Her articles across the region have been published in titles including The London Magazine, Condé Nast Traveller and Monocle Magazine.
As well as her role as Arts and Travel Director for Branding Latin America she is a board director for Arts Education non-profit The Playing for Change Foundation.
Ella graduated from Brown and Oxford universities, with degrees in Comparative Literature and Social Anthropology.
Delfina is the PR Director of Branding Latin America in Spain.
She is specialize in brand positioning, digital communication, networks, events and businesses for governments, brands and Latin American individuals seeking to position abroad.
She work for the private and public sector. First in Cargill in the area of institucional relations and then in the area of Protocol for the Government of the City of Buenos Aires for the current president of the Argentinian Republic, Mauricio Macri. Delfina has excellent contacts with Latin American Governments and with international businessmen.
Delfina has led her own events company in Argentina. Working in the area of arts, culture and business management. She worked for Palermo´s Hippodrome, Boston Consulting Group, Art Marbella. The Croque Madame restaurant chain, the art fair Aparte among others. Delfina continuously works to deepen ties between Latin American and European culture.
She has led communication projects for different presidents of the region and today she works in the expansion of Branding Africa.
A highly experienced documentary filmmaker and director/producer, who has worked for various production companies, NGOs and publications including Monocle magazine, The Independent, Evening Standard and The Telegraph covering topics across the world from news stories to cultural documentaries, and has broad experience creating branded content for clients like O2, HP, SEAT, AMEX and more.
Political Communications Director
Mel graduated in Social Communication and has a Masters in Image Consulting and Political Consultancy from Camilo José Cela University in Madrid. She has been working for more than fifteen years in the field of Political Communication and in electoral campaigns. Mel worked for renowned companies in Political Marketing in Brazil, such as MPB, Public Communication, Duda Mendonça, Exacta Inteligencia among others, and led various campaigns including state and Presidential electoral in Argentina, Paraguay and Brazil. Her experience in the field of Image Consulting led her to give conferences in different Latin American countries for organizations such as Idea Internacional, PRD in Panama and different Universities in Peru, Argentina, Panama and Brazil.
Public Relations Executive
Alexandra Tavoulari is the project manager and team leader at Branding Latin America. She has worked in politics, art and social media management as well as event planning and is additionally an entrepreneur herself. She is dedicated, proactive, and is well connected within the Peruvian community in the UK.
Ana Maria Soldevilla has a broad experience in corporate relations, and is an expert on international business strategy and marketing.
She has an extensive commercial and financial background in Peruvian and international markets, having had managing positions since 2002 at top consumer good brands such as Bimbo Perú, Kraft Foods and Grupo Bimbo among others. She worked for 10 years at Lima Stock Exchange, where she was responsible for the creation of the Commercial Management, Corporate Relations and Marketing area.
Since the foundation of inPERU in 2012 until 2019, she has held the position of Executive Director. inPERU is a multi sector Public and Private Association founded by the main business organizations that promotes Peru investment opportunities internationally, becoming one of the main promoter and communication channel for the Peruvian market. During her leadership, inPERU has visited 21 cities in America, Asia and Europe; and connected with more than 8400 international investors, working with the Ministries of Commerce, External Affairs, Mining, Economics, among other public and private institutions. She has a Senior Management degree from IE Business School of Spain, Kellog School of Management, Tulane University among others, also has an MBA from Tulane University and Catolica del Peru University.